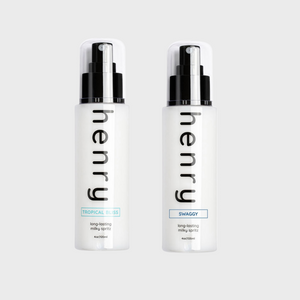 Tropical Bliss x Swaggy Bundle
Regular price
$36.00
Sale price
$32.00
---
Our Spritz Duo includes a bottle of Tropical Bliss & Swaggy.
Our main goal in developing this formula was to engineer it to promote healthier hair and skin for your beloved friend every single day, to eliminate any unpleasant odors so they smell amazing 24/7, and allow for a long-lasting performance so that you can get the most out of every spray.
We hope you love it as much as we do.
Shea Butter - This plant lipid is packed full of vitamins, antioxidants, and skin + hair replenishing fatty acids. Infuses the hair with Vitamins A, E, and F which promotes healthier hair.
Coconut Oil - A great, natural way to help hair grow longer, thicker, and faster. The vitamins and fatty acids found naturally in coconut oil nourishes the skin, removes sebum, and strengthens hair follicles.
Caprylic/Capric Triglyceride - Derived from coconuts, provides a barrier on the hair's surface to prevent moisture loss. It not only moisturizes, but also acts as a great conditioning agent keeping the hair fresh.
Lecithin - Derived from plants, is an excellent hair and skin repairing agent.
Dl-Alpha Tocopherol - A form of Vitamin E that is an antioxidant and skin healing agent.
Water, Glycerin, Fragrance (with natural fragrances), Caprylic/Capric Triglyceride (derived from coconuts), Polysorbate-80, Cocos Nucifera (Coconut) Oil, Lecithin, Phenoxyethanol, Butyrospermum Parkii (Shea Butter) Fruit, dl-alpha tocopherol, Aloe Barbadensis, Ethylhexyglycerin
Made with love.
Hold sprayer 6 inches away and apply a generous amount covering the entire coat. Allow quick drying to take place. Brush into coat for best results.
Tropical Bliss - Crisp watery accents add sparkle to an accord of tropical foliage that accents the fruity heart of this summer blend. Pineapple, goji berry and mango are perfectly blended for an exotic sensation, as a hint of driftwood adds lingering tones of sunny warmth to the island sensation.
Swaggy - Cedar wood and oak wood intertwine with warm mahogany to create the perfect scent for any season. Topped with hints of clean lavender and the rosy nuances of geranium.